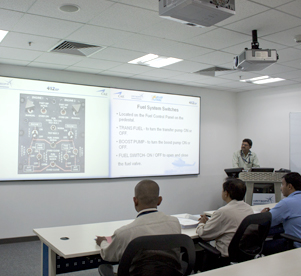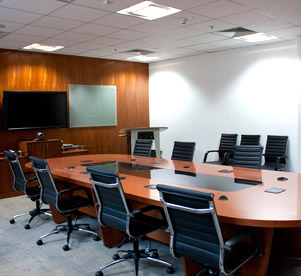 TRAINING FACILITIES & INFRASTRUCTURE
The HATSOFF simulator complex consist of a "mothership" with a rolled-on/rolled-off (RO/RO) platform and four cockpit modules:
Bell 412 cockpit module
HAL Dhruv(Army/Air Force variant) cockpit module
HAL Dhruv (Conventional cockpit variant) cockpit module
Eurocopter Dauphin cockpit module
The "mothership" encompasses a common platform comprised of:
Motion system, six degrees-of-freedom
Vibration platform
Visual display system, five-channel, 220-degree horizontal by 60-degree vertical field of view, Liquid Cystal on Silicon (LCoS) projectors
CAE MedallionTM-6200 image generator
The flight training device (FTD) will be a "docking station' to which any of the RORO cockpit modules can be attached, effectively converting the module into a Level 6-equivalent FTD. The docking station has its own three-channel 150 x 40 degree visual system. This will enable training on a second helicopter type while the FMS/FFS is in use.